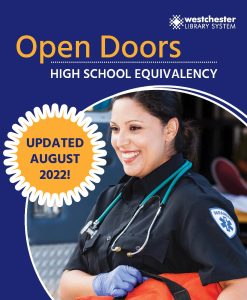 If you want to get your high school equivalency diploma, the answers are here.
Click the image on the right to open/download our free guide OPEN DOORS.  This will explain the pathways to a diploma in detail and includes a review of the types of content you will need to master to move forward.
This page has two sections:
Get Started provides a summary of the four pathways.  Click on each to find out more.
Develop Your Skills is where you'll find out about resources that can help you study.
If you have questions, you can reach out now to our HSE Connect! program.  Leave your name and contact information.  We'll connect and help you find the best path toward your goal. Use this ASK US form to send an email or call (914) 231-3264.
To learn more about earning a High School Equivalency diploma and how WLS can help, please request a phone call or video meeting through this question form.
Esta página menciona lo que tenemos disponible en español.
Get Started
---
Four pathways to a diploma; which will you choose?
Do you have a diploma from another country?  Here's what you should know.
Don't know where to start?  Our HSE Connect! program can help!  We'll work with you to find the right starting points and the best resources and services to move toward your goal.
Develop Your Skills
---
Below are free resources availale from the Westchester Library System that you can use today!
GED Academy – A fully online study program that starts you at the right level and efficiently moves you forward.
Read Better – Partner with a volunteer to help you read better. We provide the materials and encouragement – you provide the time. Contact our program coordinator to learn more.
Learning Upgrade – Ideal for building reading, math, and computer/internet skills. Use the placement test option to get to know the program and then go ahead and gather your medals – bronze, silver, and gold.  Connect with us for a password.
Tutor.com/Westchester – Study help online covering content from grade school through college (and GED prep too!) .  Includes live tutoring, homework help, and job search help, practice tests and quizzes, and study guides.
Other recommended resources from the web
Khan Academy video courses in math, reading & language arts, social studies, science).  Make an account!
TV411 offers videos that cover reading, writing, math and science skills; focuses on real life situations.
You might also be interested in these topics:
Go to college – After you pass the test, consider going to college. You can use our online resources for help and guidance.
Explore career options – Review our Job Search Toolkit and the resources for assessing careers and finding your next job.
Expand your computer skills – Take a look at the resources on our Digital Learning resources; no matter what comes up next, you'll be ready for it.