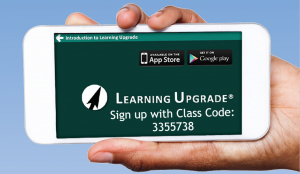 Learning Upgrade is an interactive, fun and effective way to enrich your studies in reading and math. Music and graphics make this a good add-on to any other study resource you may be using…or you can just use this tool and go all the way through HS level reading and math.
Download the FREE app to your Android or iOS* device. Select GET STARTED and pick the skill you want to build first – English or Math. Pick a starting level or take a placement test. Before you begin you'll have the chance to create your account. Use the special referral code 3355738.
*iOS users should contact FirstFind to set up an account.
Questions? Ask FirstFind! Email us using the link at the right.
(Be sure to have your sound on for the videos below. )